Sereen Eng, Nail Care Expert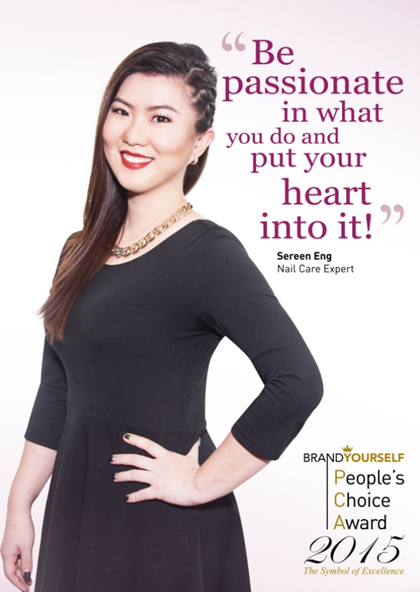 What drives you in your life and career?
Whenever I looked back at how far I've come, it amazed me how determined I really was. To me, the thought of being in a business of pampering is both rewarding and exciting. However, things did not turn out as I expected.
I once got a remark from a client, she said, "Hey, you are a graduate with bachelor degree and you're here to wash feet? What a waste!" This remark probed me I started thinking, how can I change the perception of the job of a manicurist? How can nail care be a respected career?
Then I started to speak up, I share with everyone I meet, on the great things about being a manicurist. It is therapeutic for me to see clients so pleased about how they spent their time and money. The personal rewards you receive from a job well done are wonderful. When a customer really appreciates your work, you know that no one but you has created that result.
I am glad I didn't give up. As the saying goes, "whatever doesn't kill you makes you stronger". Now I am proud to be recognized as the Nail Care Expert. I love challenges; I'm a firm believer that anything that is worthwhile is a challenge.
What does Personal Branding mean to you?
What was the biggest challenge in your life and how did you overcome it?
What is your proudest moment to date?